The time has come to take out the moulds, to use your imagination and to experiment with the ingredients you have at home.
What better way to go about it these days than between workouts and cooking?
Today we leave you with a couple of recipes that caught our attention, to see if they captivate you as much as they do us.
Also, for the more restless and sporty ones, we bring you a series of exercises that you can do at home, without any problem, even if you don't have any sports equipment.
Don't let it be said that we have time to get bored!
VEGETABLE CROQUETTES
Really, we don't lie to you. There is a possibility to combine both products and get a result that will leave you as dumbfounded as we are.
The process you will have to follow to prepare this recipe is the following: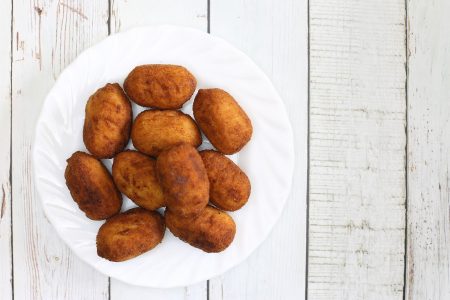 Wash the vegetables and chop them into very small pieces. Heat 2 tablespoons of olive oil in a frying pan over medium heat and brown the vegetables for 2-3 minutes, stirring occasionally. Add 1/2 teaspoon of salt and mix well. Heat 2 tablespoons of oil in a small saucepan over medium heat. Add 4 tablespoons of wheat flour and mix well with a whisk.
Lower the heat to the minimum and add a little soya milk, while continuing to beat, until you get a smooth, rather liquid cream. Add 1/4 teaspoon of salt and nutmeg and mix well. Pour the béchamel sauce into the pan with the vegetables and mix well. Mix the corn starch with the water in a glass and add it to the frying pan as well. Put it on a medium heat and stir to mix it. Cook it all together 6-8 minutes or until it has thickened enough, more or less like a mashed potato (you can add more vegetable milk or more flour).
Taste and adjust the salt. Let it cool down and keep it in the fridge for at least 4 hours in a closed container. The dough will solidify a little more. Prepare a bowl or soup plate with the wheat flour. In another bowl mix the chickpea flour with the water and vinegar, and in a third bowl mix the breadcrumbs with the semolina.
First pass them through the bowl with flour, then through the liquid mixture and finally through the breadcrumbs and semolina. If the dough of your croquettes is quite soft or you want an extra crunchy breadcrumb, pass them through the flour first, then the liquid mixture, then the flour again, then the liquid again and finally the breadcrumbs and semolina:
Flour – Liquid – Flour – Liquid – Breadcrumbs
This option is better if we want croquettes that keep their shape very well, that do not open while we fry them, that do not absorb oil and that are very crunchy. Leave the croquettes already breaded in a dish or large plate without piling them up. Once they are done, you can freeze them to fry them at another time. Heat a deep frying pan, saucepan or deep fryer with plenty of oil at medium heat (170-175ºC). Make the croquettes in batches, moving them gently so that they are well done on all sides. Remove to a wire rack with absorbent paper towels. Serve hot.
KOHLRABI, POTATO AND APPLE SALAD
This recipe is great for those who would like to eat something fresh, light and, above all, easy to make.
Wash the potatoes with a soft brush under the tap and cook them in abundant water for 10-14 minutes, until they are tender (prick them with a skewer to check).
Let them warm up, peel them, dice them and put them in a bowl. Peel the kohlrabi and grate it into medium strips. Wash the apple and cut it into strips too.
Add it to the bowl. Add the dill, chopped, parsley and salt and mix well, gradually adding the light vegan, stirring well to soak in the mixture until all the ingredients are covered. It is not necessary to add more vegan (unless you want to). Store in the fridge before serving.
But not everything is going to be about just cooking, as during this time we can do a thousand activities at home. One of them is to do a series of exercises that will help us to tire our bodies and to expend the necessary energy so we can sleep at night.
Some of these exercises are:
JUMPING JACKS
The ideal exercise to warm up and prepare your body for the session that awaits you afterwards. From there, what you have to do is start jumping, land with your feet in the shape of an A and your hands pointing to the sky. Then you do another jump in a row that allows you to return to the starting position.
THE CLIMBER
Get into the bending position and from there, start bending your right knee to bring it up to chest level, while the other leg stays straight. Return to the starting position and switch to the other leg for interleaving.
ABDOMINALS
The classic aminemy of us all but the best ally of the flat belly. Lie on your back with your legs bent and your feet firmly on the ground or together and high in the air. Once you have the posture achieved, begin to lift the upper body to your knees (you can do this either with your arms stretched or by bending them into an X shape).